Why work with us
We offer our teachers:
Excellent lesson preparation facilities

Offices in Prague, Brno and Mladá Boleslav

Ready-prepared materials

Talent management programme

Training and development workshops

Senior Teacher (mentor)

Teaching conference

Social events

REPUTATION
We have been around since 1999 and have become a specialist in corporate language training in Czech Republic. In 2013 we won the Vodafone Prague Company of the Year competition and in 2017 we entered the Polish market. We are a member of the Czech Association of Language Schools.

CARE
You are a member of our team.
We will support you with your ongoing development and methodology skills through our Senior Teachers and many great workshops.

STABILITY
We work with over 500 clients in Central Europe and there are plenty of courses for our teachers in all our countries. You can be sure that if you wish so, you will have courses all year round.

REWARD
We reward you for your hard work and loyalty – you can directly influence your pay with positive feedback from your students and Senior Teacher.
Resource Centre and Library
Our school is located in the centre of Warsaw, with lots of restaurants and shops close by. Teachers have their own places in our office with a library (also accessible online) and Resource Centre with textbooks, magazines, printers, computers and Wi-Fi. We also have many specialised materials for our teachers to use when planning their lessons.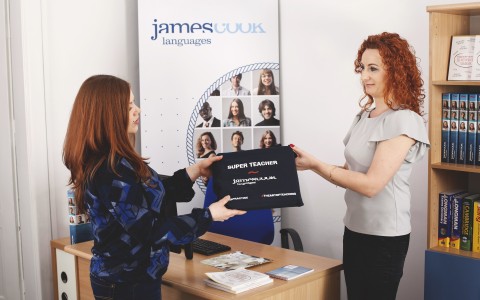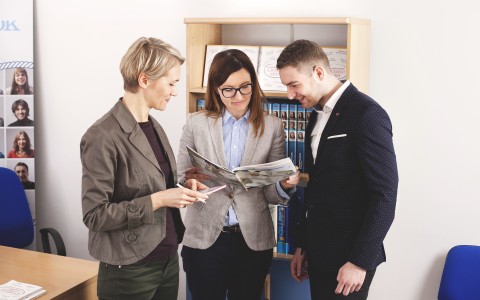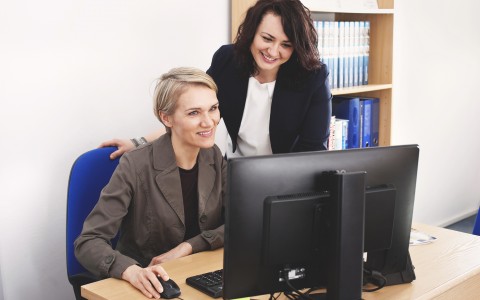 Methodology support
We have developed our own methodology, Coach&Practise, which will make your work with us even easier. We have also written a unique methodology handbook for our teachers to help you even more with your teaching and lesson planning. We have a great set of interesting and useful training and development workshops for new teachers to support you when you start teaching with us.
Reward and care
You are part of our team. We support your ongoing development and methodology skills. We reward you for your hard work and loyalty – you can directly influence your pay with positive feedback from your students and Senior Teacher.
Who we teach
Our methodology enables us to teach languages effectively to busy professionals, who can only devote a limited amount of time out of their busy schedule. These are students who do not have much time for self-study, preparation and homework.
Our goal
We plan lessons that focus on the communication needs of the student and their specific language needs. Our methodology especially helps students to have the confidence to use the language and speak in a realistic context.
How it works
The Coach&Practise method guides the student towards effectively learning the language by using visualisation, self-correction and finding the best way to communicate their ideas. Our students actively speak for 80% of the time during lessons and always do so in the target language. The lessons are logically linked together, plenty of practice helps students remember new language and motivates them to actively use it in their professional and everyday lives.
What our teachers say about us
More than three years of work for JCL gave me a fantastic opportunity to develop professionally. After my three initial observations (which helped me significantly and gave me excellent preparation) I had many opportunities to teach more advanced and specialised courses such as, for example, intensive courses and open courses and I was also able to develop professionally as a teacher. This opportunity gave me much more than if I had only devoted myself to teaching and nothing else. I have the option of participating at workshops and development courses which help me to face different challenges ranging from teaching aviation English through to presentation skills.
In November 2005, when I completed my TEFL course, I saw a presentation by a JCL teacher and it really caught my attention. I am proud of the fact that since that time I have been able to teach business or general English to employees from a wide variety of companies and even to represent our company via various intensive courses, presentations and conferences. James Cook Languages offers much more than just teaching lessons. Constant development, lasting friendship and a personal approach are just some of the advantages which you can expect when working here. 
Anna Wágnerová
Senior Teacher
I ​​have been working for James Cook Languages since 2006 and I can say that it was a good choice, I have always been very happy with my relationship with the company. I was especially impressed with the facilities for teachers from the very beginning - I felt like Alice in Wonderland in the Resource Centre. I always left the workshops charged with new ideas. But at the same time, I greatly appreciate the positive and professional approach of the entire team, which has always given me support whenever I have needed help. And not only that - I have also had many opportunities for personal development, whether it involved testing new students, teaching intensive courses, helping with the preparation of teaching materials or participation in other projects. Now as a Senior Teacher, I hope that I can continue the tradition and provide similar positive support for other teachers.
I have been working as a German teacher for James Cook Languages since autumn 2011. From the very beginning what I liked about this language school was the relaxed work atmosphere in the offices. The people who work here are very friendly. I was always welcomed when I had questions to ask and felt integrated and accepted. I also appreciate the professional approach, for example the organisation of courses or the regular seminars for teachers. As a result of working for a cultural centre in Prague as well, I am able to choose the number of courses according to my time possibilities, which gives me a lot of flexibility. At JCL I have always found support in this context. Working for the language school has made me aware of the advantages of teaching adults (I am a trained teacher for secondary schools); I must say that they are a very grateful audience.
I joined JCL after university and the completion of a teachers' course in Great Britain. I knew that I would need to acquire new experiences. I registered as a teacher at JCL and sent my sample lesson plan and curriculum vitae and completed a Skype interview. I was successful and I was invited to a second interview in Prague, where I presented my sample lesson. Luckily, it was not a wasted trip to Prague. I started by teaching regular courses, but thanks to the development plan I soon moved on to teaching open courses, intensive courses and VIP clients. I regularly help with the preparation of these courses and I look forward to the further development of my career and skills.